FROM ONE DOOR TO ENTERPRISE SECURITY

RBH ATOM is a Standalone IP based controller. It can either work standalone without connecting to the PC or with a web browser using RJ-45 port.

Integra32 Security Management System seamlessly integrates Access Control, Intrusion Alarms, Elevator Control, CCTV & DVR, Biometric Authentication, Photo ID, Building Automation, and ON and Offsite Alarm Monitoring, into an elegant and versatile building management and security system.
With a fully featured client or Web browser access to system management, Integra32 addresses all security management needs for small and medium size businesses and organizations. There is no limit to system expansion with an in-place upgrade path to our AxiomV Enterprise Security Management System.
AxiomV Enterprise Security Management System for large multi-site/multi-tenant applications, seamlessly integrates Access Control, Alarm Monitoring, and Video Surveillance into an elegant and versatile building management and security system.
Solid architecture and highly customizable, flexible user interface provides powerful tools for Enterprise Security management. Robust and highly sophisticated hardware implements variety of flexible solutions at a firmware level. Designed and manufactured "in house", AxiomV offers unmatched longevity and will insure a long life span for a security investment. AxiomV provides a sophisticated yet affordable solution for systems of all sizes.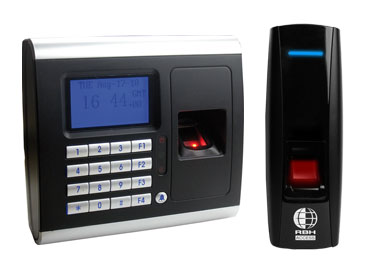 Multiple brands of biometric readers are transparently integrated with AxiomV. For example: Enroll fingerprints within Cardholder Management screen on any workstation and they will be automatically transmitted to appropriate fingerprint readers: no 3rd party programs, no double data entry.
A variety of biometric technologies are supported: fingerprint, iris, palm etc. Using a combination of TCP/IP and Wiegand connections allows to integrate virtually any upcoming or established biometric technology.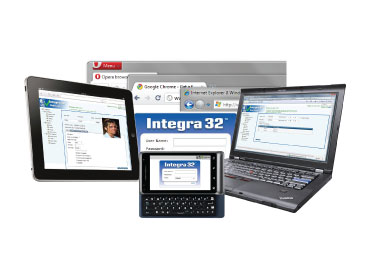 Configuring the Web Server on the Integra32 system, will allow operators to control and administer the security system via a web browser from any operating system:
• Edit cards, schedules, access levels
• Monitor and control doors, alarm points and relay outputs
• Run database and activity reports
• Use any browser…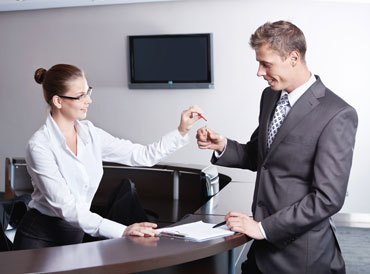 Welcoming visitors while ensuring the security of your facility can be challenging. To make this task easier, Integra32 has made available a powerful, yet easy to use and feature rich Visitor Management module.
Here are just a few things it is capable of:
• Pre-registration and Quick look up
• Quick visitor check in and check out
• Issue pre-configured access cards
• Take pictures of the visitors
• Print visitor's photo ID badge
• Live tracking of visitor's card activity
• Define custom information fields
• Many additional features…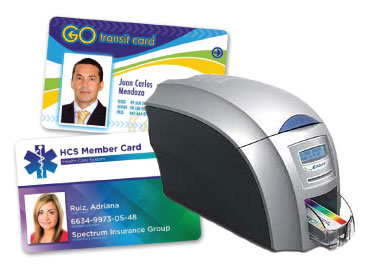 Photo ID module provides an easy to use and powerful tool for creating high quality, dual sided personalized credentials. Multiple images can be stored for each cardholder. They can be printed on a card along with barcodes, signatures, fingerprints, static text and every data field of Cardholder's record. Intuitive, built-in card template designer allows for import of images and backgrounds, positioning and custom configuration of cardholder's images, text and data fields. Multiple templates can be created to differentiate employees, departments, etc. Magnetic stripe, Proximity, and Smart Card encoding is available with appropriate hardware. Utilizing standard MS Windows interfaces allows use of any WIA compatible video sources for image capture, Signature capture pads and Card printers from various manufacturers.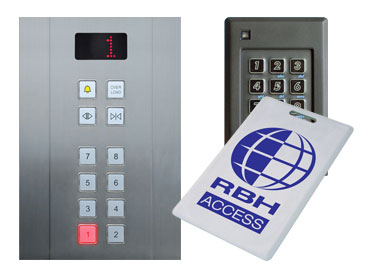 Restricting access to particular floors on schedule, locking down elevators or making them accessible without restriction are part and parcel of our true elevator control. From a reader installed inside of the elevator cab a cardholder can enable all of the buttons to allowed floors, and after floor selection button press to disable activated buttons preventing piggy-back access to other floors. Multiple cardholders can make their selections during the trip.
RBH software can communicate with elevator controller via programmable ASCII or input/output interface. Architecture employed makes it easy to add visitor access functionality to existing systems. Permissions are easily configured in "Access Level" screen.
Event Viewer & Access Activity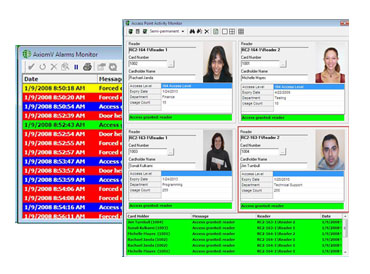 More than just a running list of occurring events, the Event Viewer offers all of the control, CCTV and configuration functionality through a convenient right click. Go right into editing of Cardholder's record by right-clicking on the card number, look at live video or video of an event, grant access on the door in which access was just denied, edit email notifications and re-configure alarm points at the first sign of trouble.
Greeting someone by name or verifying that an authorized person is using a card are just a few aspects of this feature. The video verification screen can be assigned to monitor specific doors and display cardholder's live and on-file picture, basic information and 5 additional fields as access is attempted. Granting Access and locking/unlocking of the displayed door(s) is accomplished through on-screen controls.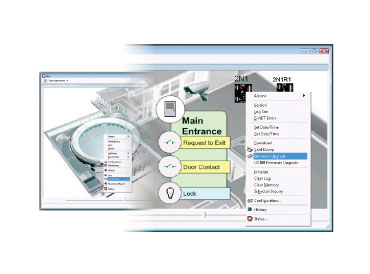 Control all system devices and view live status from a dynamic map with just the click of a mouse. The easy "drag and drop" interface allows you to create your own maps or import bitmaps and AutoCAD drawings. Position and re-size icons for every controller, door, input and output, cameras and shortcuts to other maps. Complete with manual or automatic display on alarm, mapping is enhanced by direct and full access to all control and configuration functionality, integration with live and event video for each device.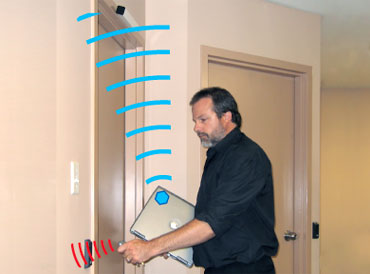 To prevent theft of your organization's assets or to keep track of their current location, Integrated Asset Tracking system is designed to help stop persons leaving with valuables they are not authorized to remove from the premises or move them to another part of your facility. AxiomV will link individual assets with their owner and with picture of both protected valuables and their assigned owners.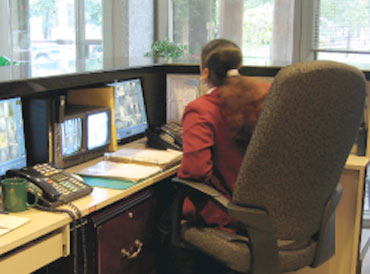 In a small or a large facility there is no substitute for personal inspection of the access points and secured areas. To verify a door's operation, presence of people in the area, or various other issues that can be out of normal order, a patrolling security officer is needed to make sure that these inspections are performed on time and in proper order.
Access Points can be arranged in a sequence to be visited by a security guard. This Guard Tour can be started manually or automatically on a schedule and will specify the times at which points on this tour must be visited.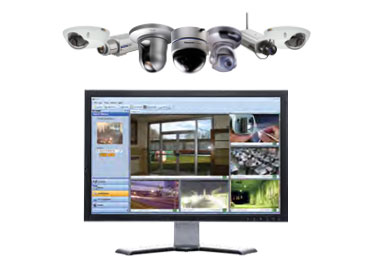 Over the Internet or office LAN, the system user has direct system-wide access to live video, event viewing, history event based video search and video export functionality. Custom tailored assignments link individual Access and Monitoring Points to specific cameras across multiple DVRs, providing an ability to set pre- and post-alarm viewing preferences and PTZ shots.
Make an appointment for live demonstration in our office.