Facial & Fingerprint Access Control
YD-HA9 is a most advanced face & fingerprint reader for employee attendance & door access purpose.
While registering the face, it captures the relative face position, size and shape of user's eyes, nose, cheekbones and jaw features. So even some time the employee wears the spectacles & getting fat also not affected. The system can perfectly match & verify the employee.
Primarily employee's face & fingerprint can be registered to the machine. The employee need stand & look in-front of the built-in camera. can use their finger.
Usually employee's face & up to 3 fingers will be registered to the machine. So the employee can use their finger for the attendance, if face can't be detected due to some exception reasons.
This face recognition reader can be used for door access & time & attendance purpose also.
It has built-in controller which sends the signal to the door EM lock to release the door. Different time zone setting like some staff can access 24×7 and some can access during office hour only can be set.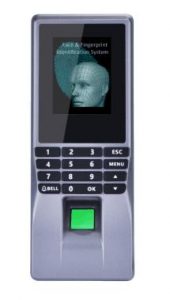 Integration of Facial, Fingerprint & password identification methods
Communication: USB 2.0 exempt drive, TCP/IP
High resolution Infrared Camera
2.8" TFT touch screen provide great visual indication
USB Thumb Drive (Support 2.0 Protocol)
User capacity: 300 Face , 3000 Fingerprint, 50 time zones, 50 groups & 50 unlock combinations
Transaction Storage: 200,000
Verification Mode: Facial, Fingerprint, Access Card & Pin code
Language: English & Chinese languages
Make an appointment for live demonstration in our office.