Oncam's 360-degree technology innovation extends beyond live viewing. The technology is protected by over 30 patents and by enabling high-resolution recording of the entire fisheye view, independent of what an operator is doing, images can be processed during playback as if they were live images. During playback images can be dewarped and virtual cameras can be generated enabling the viewer to pan, tilt and zoom around the entire scene. The result is that investigations can be carried on as if the video were live.
Technology benefits:
• Wider area of coverage with no blind spots
• Fewer cameras and infrastructure required to monitor a scene
• Retrospective tracking
• Total Situational Awareness
• Eliminate the mechanical delay in traditional Pan Tilt and Zoom (PTZ) cameras
• Oncam's 360-degree cameras have no moving parts and require no maintenance
• Completely silent operation
A solution for every situation
Oncam offers a complete range of 360-degree cameras in various form factor to suit any application and environment from Indoor, Outdoor, Concealed and even Explosive! An extensive range of accessories is also available and allows for multiple mounting possibilities. Powerful software tools gives the user full control of the cameras and our free mobile application will put our unique 3D dewarping experience right at your fingertips, literally.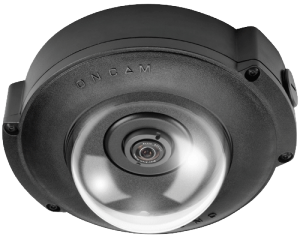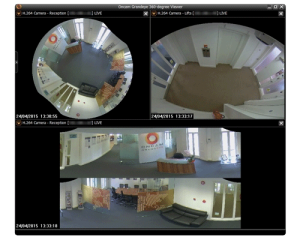 Monitor and dewarp all your Oncam cameras
Use the Oncam 360-degree Camera Viewer to view and dewarp live and recorded videos from any Oncam cameras that are connected to the same network.
Choose between various screen layouts and dewarping types, or let the demo mode guide you for a more immersive experience.
Voted ``New Security Product of the Year 2013``
OnVu360 is a world's first: A mobile application that enables users to fully experience surveillance through 360 degrees, in full HD and in the palm of your hand. It is a truly ground-breaking experience that you need to see and touch to believe.
Discover this unique multi-touch 3D client-side dewarping experience with a free download for iOS and Android devices!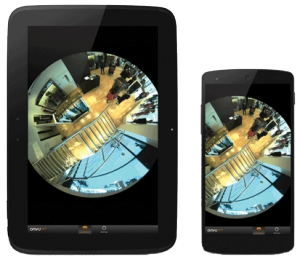 Make an appointment for live demonstration in our office.